Are you a local business and want to advertise your business online?
Using Google Ads for your business, in the beginning, is difficult unless you have the time for education & money for testing. Without that expertise, your first campaign most likely won't have great results. Google offers many campaign types based on your marketing goals, brand strategy, and how much time you can invest. The Google Local campaign type is the most cost effective, easiest to optimize for results, and simple for anyone no matter how experienced you are with Google Ads. The local campaign is extremely budget-friendly with rapid results even for the smallest businesses.
We recommend businesses start with a budget minimum of $20 a day for 30 days. Why such a low budget for a campaign that offers such a high return? You must set a baseline for the opportunity of your local market. If the Google Local campaign is your business's first ad campaign starting with a low budget & incrementally increasing based on success is the safer option for your money. Underspending is better than overspending, especially for Google Ads rookies & small businesses with small budgets.
After that 30 day period, data has been collected, conversions, clicks, impressions, interactions, phone calls, & store visits have all taken place, what do they mean?. We will break them all down to make strategic moves within this Google Ads campaign.
Clicks – When someone clicks your ad
Impressions- An impression is counted each time your ad is served. Impressions help you understand how often your ad is being seen.
Conversions- Conversions show the number of conversions you received after ad interactions (such as text ad clicks or video ad views) from all actions you've included in your ads account.
Local Conversion Types
Clicks to call: Clicks on the "Call" button on any Google location-based ad or service after an ad interaction.
Local actions – Directions: Clicks on the "Get directions" button on any Google location-based ad or service after an ad interaction.
Local actions – Website visits: Clicks on the website link on any Google location-based ad or service after an ad interaction.
Local actions – Other engagements: Clicks on other tracked user actions (for example: share location, save, etc.) on any Google location-based ad or service after an ad interaction.
Local actions – Orders: (Food & Beverage specific) Clicks on the "Order" button on any Google location-based ad or service after an ad interaction.
Local actions – Menu views: (Food & Beverage specific) Clicks on the menu link on any Google location-based ad or service after an ad interaction.
Where do Google Local campaigns advertise?
The ads will be featured on Google search results pages, Google Maps, Google's Display Network & YouTube. All of this is pulled together through connecting your Google My Business, Google Ads, Google Analytics, YouTube & Your Business's website.
The campaign is extremely budget-friendly and it brings in results rapidly so you don't have to worry about waiting months for results and optimizing campaign keywords, audiences, locations, & so much more. This cannot be said for many of the other campaign types. Some people have turned away from local campaigns due to the complicated nature of setting up the campaign but after launch little optimization is required.
The local campaign requires:
The Google My Business profile transferred to a location group
Link Google My Business to Google Ads
A video ad that is uploaded to YouTube & Google My Business
Images & your business logo in a square format
Ad copy
How to Transfer Google My Business Location(s) to a Location Group
To transfer existing locations the primary owner must transfer the accounts to a location group:
Sign in to Google My Business.
Click Manage locations. (If you're part of multiple organizations, make sure to choose the right organization first.)
Create a Location Group.
Next, go to group settings to manage users. Add business managers & your marketing team as owners.
Use the drop-down menu to choose a location group. (A green checkmark will show next to any location groups owned by a bulk verified account.)
Check the box next to each location you want to transfer.
From the Actions drop-down menu, select Transfer Location.
Select a location group to transfer the location.
Click Transfer.
Google Support has additional resources on the transfer process.
How To Transfer Google My Business Video
Link Google My Business to Google Ads
Sign in to your Google Ads account.
Click Ads & extensions in the page menu on the left, then click Extensions at the top of the page.
Click the + button, and choose the Location extension.
Click Link to an account I know.
Choose Select a Business Profile that I manage. Select an account from the dropdown.
Click Continue.
Apply your business name or label filters if needed. Click Finish.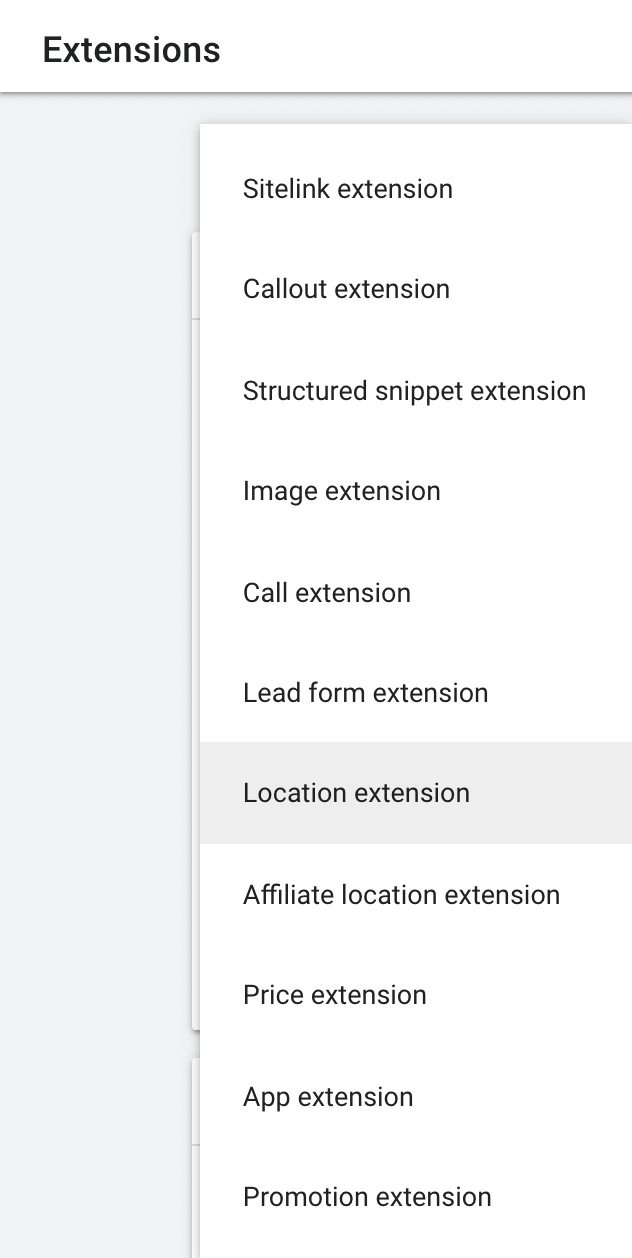 Create & Launch The Google Local Campaign
Step 1: Transfer Google My Business Location(s) to a Location Group
Step 2: Create Location Extension
Step 3: Create a Campaign in Google ads with the objective Local Store Visits and Promotions
Step 4: Select Use Your Business Locations then Choose locations for this campaign: Use location groups
Step 5: Choose the location group created in Step 1.
Step 6: Click Continue
Step 7: Name Campaign & Set Daily Budget
Step 8: Select the conversions for the campaign to optimize for & track. We recommend selecting all. Please note: Store Visit conversions will not be eligible for all ad accounts please check out Google's eligibility rules regarding this conversion type.
Step 9: Click Continue
Step 10: Name Ad Group
Step 11: Copy & paste the campaign's landing page in the final URL section
Step 12: Add up to 5 headlines, descriptions & Call to action text
Step 13: Upload images & your business logo
Step 14: Copy & paste the YouTube video URL
Step 15: Click Save & Continue
Requirements Google Local Campaign Ad Assets
5 Headlines (30 Characters)
5 Descriptions (60 Characters)
5 Call to Action (11 Characters )
Up to 20 Images (Minimum 1 image & 1 Square Logo

A 1.91:1 ratio image and a logo are required for your campaign. You can upload up to 20 images in 2 image ratios: 1.91:1 (1200×628 recommended) and 1:1 (1200×1200 recommended). You can add up to 5 logos.

Video Uploaded to YouTube
Although there is little optimization that can be done for local campaigns here are a few things to keep in mind after launching your campaign:
Let the campaign run its course through a 1-3 week learning period
After the learning period evaluate the data in Google Ads & your Google My Business insights
Keep an eye on your cost per conversion
Test new ad copy and ad assets if click-through rates are low (The benchmark average click-through rate for local campaigns is 0.2%)
Increase the daily budget if the campaign is not getting many clicks or impressions
Another solution to limited clicks and impressions is to add every town, city, state, or county that one of your customers could live in, up to Google's limit of 15.
If you are getting conversions but not enough of them, try increasing your budget.
Do local ads sound like they would be a good fit for your business? When you're ready, contact us for further information on how we can help generate the most traction for your local business.