HOW ADVANCED SEO GREW A SHOE MANUFACTURER OVER 200%
How W3 Affinity Increased Revenue From Google Organic Searches Over 200%!
Project Overview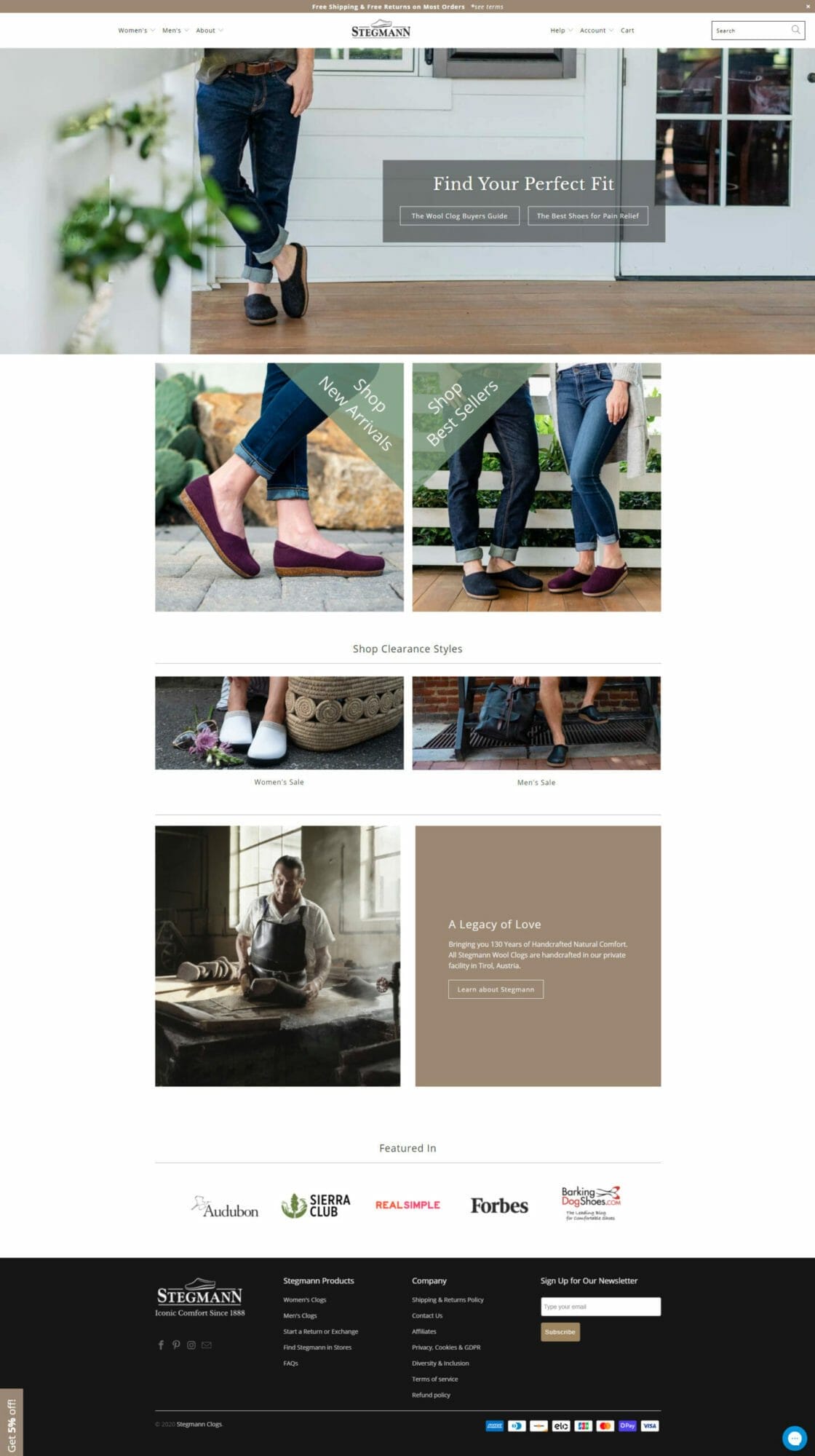 How We Got Started
We were referred to Lauren at Stegmann (AGS Footwear Group) to assist on a simple project, fixing their tracking between Google Tag Manager and Google Analytics. In completing this project, we both agreed further engagement would be best for Stegmann's growth.
We established our position as the Fractional CMO for Stegmann and got to work with Lauren and her team to make improvements in all areas digital including Amazon, Facebook, Email Marketing, Google Ads, and our case study area, SEO.
We will cover the SEO portion of our engagement in this case study.
Their Problem
Stegmann was a "top 5" competitor for their trophy keywords at the start of our engagement and wanted to be a #1 digitally for some high competition phrases like "wool clogs".
We needed to make a strong impact on their SEO in the coming year to beat out the big names ahead of them in Google Search.
In working with Stegmann to rank for this phrase, we're affecting the ranks of several thousand keywords and increasing traffic across the board. The case study covers the primary phrase as an example of our work and the measurement of its success.
"The depth and breadth of their collective knowledge made them highly effective and efficient. They were totally on the ball with troubleshooting and risk mitigation and had a plan for virtually all emergency situations, which was invaluable for our small business.

Lauren N.

CMO, Stegmann (AGS Footwear Group)
"STEGMANN IS THE PERFECT CLIENT FOR US AT W3 AFFINITY. THEY'RE ABLE TO KEEP CONSTANT COMMUNICATION WITH US WHICH ALLOWS US TO BE MORE PRODUCTIVE. THE RESULT OF WORKING WITH A TALENTED TEAM AT STEGMANN COMBINED WITH OUR TEAM'S EXPERTISE HAS RESULTED IN EXPONENTIAL GROWTH YEAR OVER YEAR.

John Keller

CEO, W3 Affinity
Our Solution
Going from the middle of Google to the 1st result is a tall order. We knew we needed a handful of items to make this a possibility. One of which would be the ultimate test, time.
The key to our strategy had to be that the value outweighs the costs. A long term holding of #1 for this keyword phrase would result in a great increase in revenue for Stegmann.
Our Strategy
Using everything in the SEO handbook was key to the success of Stegmann getting a #1 position on a target keyword like this one. We wanted to make sure our strategy could outpace the current competition in charge of this phrase and give us a good hold on the position for the foreseeable future while we work on breaking into new markets. Below is how we took control of this phrase:
SEO Strategy:
We sped up the site to outpace the load times of all our competition above us through optimization of the Shopify platform they're on. Improvements to what scripts are running, image quality, layout, and much more were key.
User Experience testing and improvements. We optimized mobile and desktop layouts to improve the way that customers flowed through the site. Making it fewer clicks to complete purchases. This signaled to Google they're sending good traffic to this customer.
Constant content curation and distribution. We set up a schedule of content to be developed and delivered to the site and other sources for backlinks.
Link Building. We partnered outward to get more backlinks to the site from various sources including niches outside of the footwear side like medical practices talking about the benefits of the product.
On-site content optimization. We went through the site and optimized the way that pages ranked by keyword phrase. Making it 100% intentional the way that wording was positioned on each and every top-level page with internal linking intentionally put into the site to drive traffic to the right page for the right phrase.
Above are some of the fundamental and advanced methods that awarded us our results.
The Traffic Increases….
The goal was obtained. Avg. Position of #1 for our top keyword phrase Wool Clogs! Now what? Year over Year with Stegmann there has been a steady growth in the organic channel but this past year with the efforts put in we've seen traffic increase a whopping 77% – At this stage of the game, seeing traffic go up between 20-25% has been a yearly goal. To show the value of top keywords, the traffic growth of nearly double in just a year's time comes with even more value.
Then the Revenue Increases….
With traffic up 77% year over year, we expect to see roughly the same revenue growth, but we didn't…
Revenue grew 250%!
And that is with much of the result coming at the end of Q3 this year. Next year we'll likely be looking at 300-400% growth in revenue!
The overall growth from SEO in the past year has been a ripple effect in other channels as well. The increased awareness traffic coming in through a vague keyword like Wool Clogs is easier to close with Remarketing ads on Facebook & Google. Pair that with the fact that we are the first business that the potential customer uses like research, we get all that rich data and a much higher likelihood of closing them with our products.
The true value of this first position is nearly immeasurable and we'll be looking to expand our reach year over year as we continue to grow the reach of Stegmann Clogs.
Want W3 Affinity to Do This for You?
Our Team Will Respond to Your Request for a Discovery Call Within 48 Hours to Schedule a Consult Specifically for Your Business.
Our Support
Main Support: info@w3affinity.com
Sales: sales@w3affinity.com
"*" indicates required fields