HOW LOCAL ADS INCREASED A 30 LOCATION MATTRESS STORE'S MONTHLY CONVERSIONS BY OVER 600%
How W3 Affinity Lowered a Mattress Store's Cost Per Conversion by 88%
Project Overview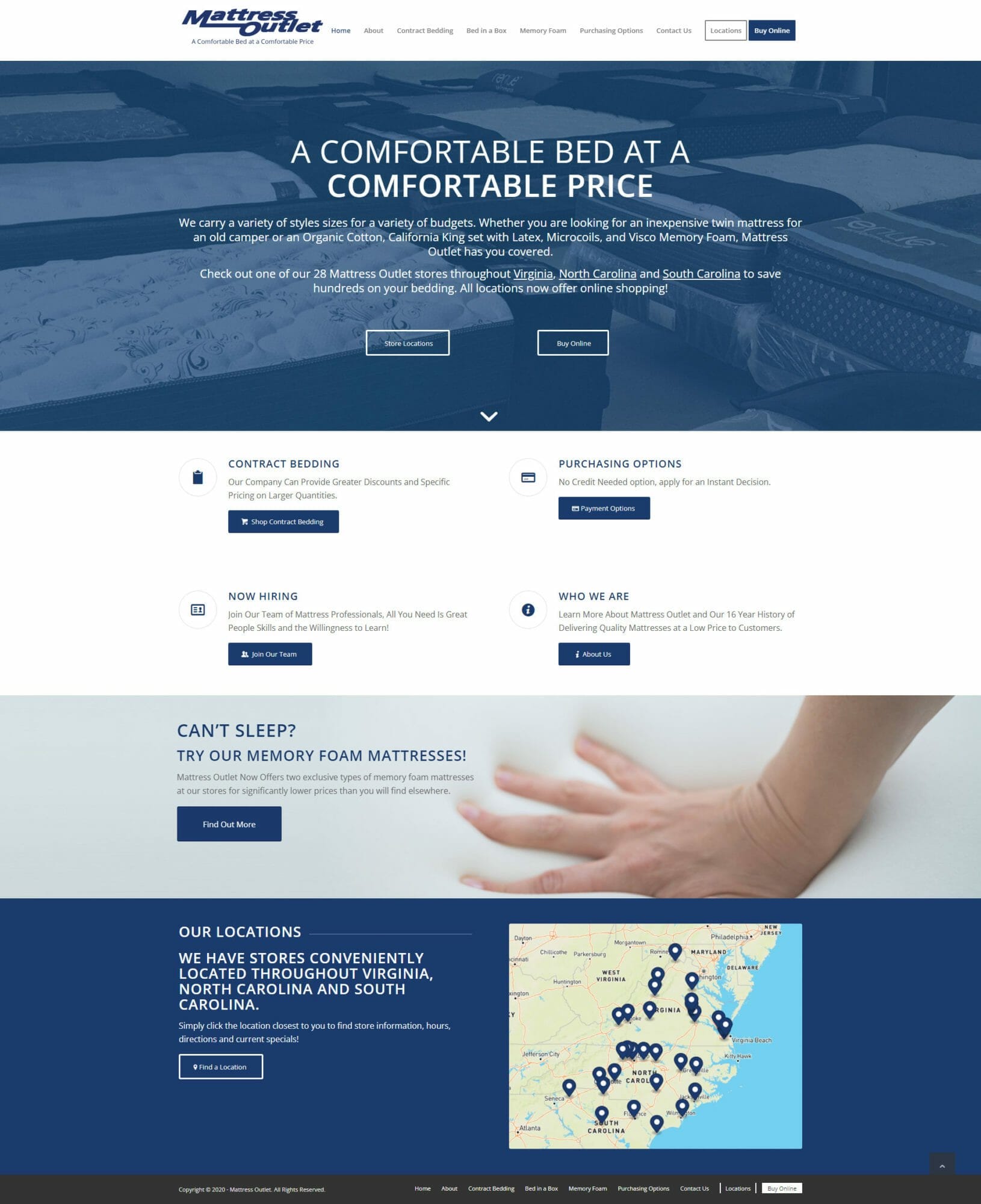 How We Got Started
W3 Affinity started working with Mattress Outlet in February of 2020.
Mattress Outlet was left without a digital company after their current provider left them stranded and needing edits. W3 Affinity quickly cloned over the site to a host that Mattress Outlet would hold ownership over and got them back on track. 
At the time, Mattress Outlet only sold mattresses in stores. In the competitive mattress market there needed to be an option for customers to order online. We launched a Shopify store that allowed customers to buy a mattress online from their local in store location. The order experience still had the local approach with options for same day pick up or a scheduled delivery day.
At the time the only digital marketing happening were Google Search ad campaigns for each location. The manifestation of our strategy started with an online local approach that led us to launching the most successful campaign in the account, a Google local campaign.
Their Problem
Mattress Outlet was seeking better advertising campaigns. They had campaigns running, but these campaigns weren't seeing the conversions they needed to be successful. 
Mattress Outlet's cost per conversion was higher than they wanted. They managed the ads themselves with good enough results, but they wanted an expert handling the account to take it to the next level.
"MATTRESS OUTLET BEING A MULTIPLE LOCATION BUSINESS RELIES ON CUSTOMERS WALKING IN THE DOORS. THE CONVERSIONS FROM THE CAMPAIGNS WERE MOSTLY WEBSITE ENGAGEMENT & NOT SALES RELATED. AFTER THE LAUNCH OF THE LOCAL CAMPAIGN NEW CONVERSIONS WERE ADDED TO THE ACCOUNT THAT HELPED BETTER TRACK THE SUCCESS OF THE ADVERTISING CAMPAIGNS. STORE VISIT & DRIVING DIRECTION CONVERSIONS ALLOWED US TO CAPTURE THE NUMBER OF CUSTOMERS THAT WERE PLANNING ON VISITING AN IN STORE LOCATION & EVEN CUSTOMERS THAT WALKED IN THE DOORS BECAUSE OF THE AD CAMPAIGN.

Warren Coppage

Account Manager, W3 Affinity
Our Solution
After assessing Mattress Outlet's Google Ads account, W3 Affinity decided local campaigns were the way to go.
Why local? Local campaigns have the lowest cost per conversion. Local campaigns make it easier to promote physical storefronts and help provide customers with necessary information about a business's physical locations. Local campaigns also allowed Mattress Outlet to track additional conversions like store visits and driving directions.
Our Strategy
Our goal was to lower Mattress Outlet's cost per conversion. Local ads provided the lowest cost per conversion we could get. The local campaign was connected using the Google My Business locations linked to the campaign. This allowed all locations to get the exposure they needed to bring more customers through the doors. 
Throughout the months of working with Mattress Outlet, we made minor advertising tweaks to continually improve and optimize their advertising campaigns. Each location had its own search campaign at the time, but it wasn't enough as the cost per conversion would fluctuate drastically month over month. 
The solution was creating a search campaign with a high budget with the exact location targeting as all of the location search campaigns combined. This allowed the campaign to drive conversions to locations that required more budget than their location campaign had based on search volume. The cost per conversion on this campaign is due to geo-targeting all of the store location addresses with a large 10-mile targeting ring.
Increased Conversions!
Using our local campaign strategy, we were able to gain additional conversion tracking data. We were able to increase their conversions in a month by 629%. We were also able to lower their cost per conversion by 88%, from $47.22 to $5.76. 
Not only have these optimizations helped us lower their cost per conversion, but they have also increased in-person sales and Mattress Outlet's ability to track them. Using a local campaign has helped Mattress Outlet's physical locations track phone calls and store visits, which assists them in tracking leads.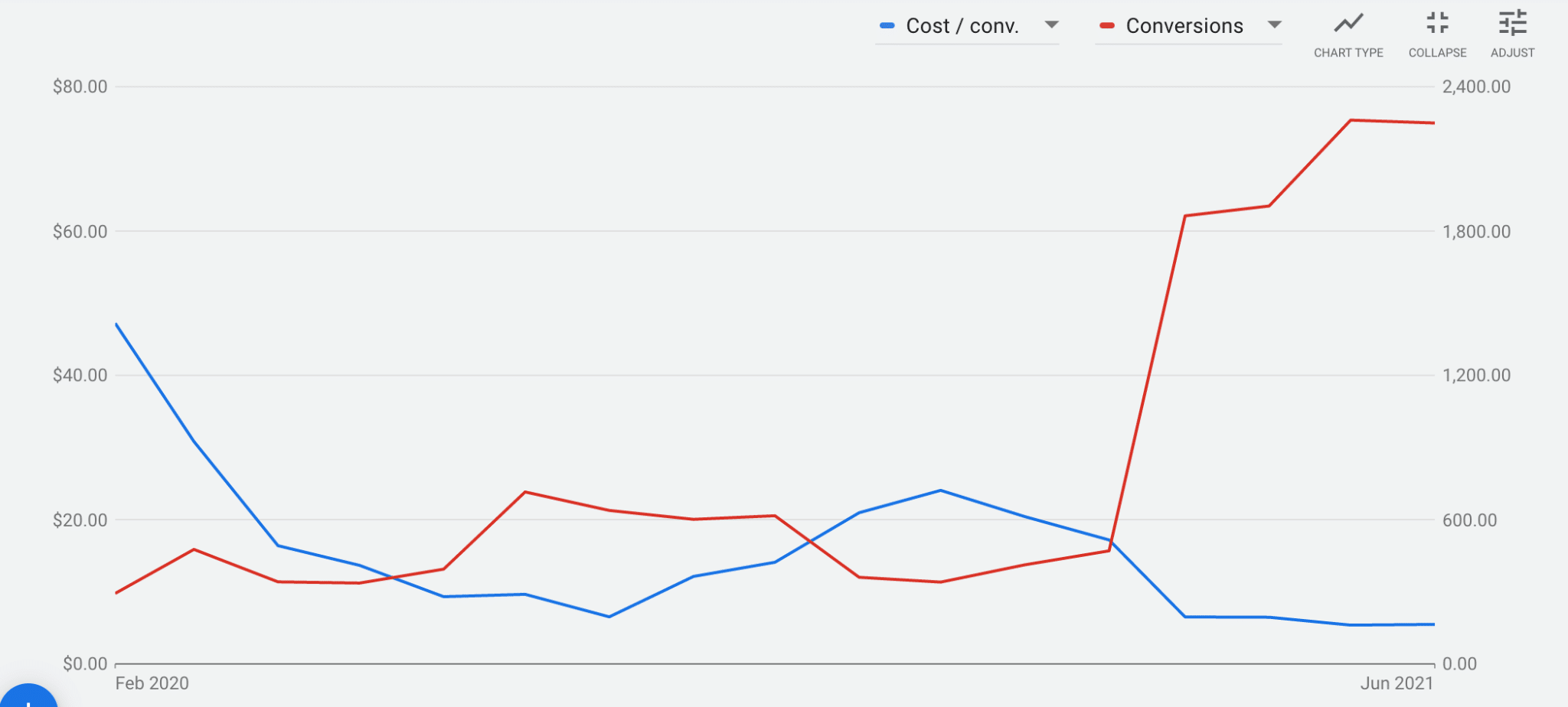 Want W3 Affinity to Do This for You?
Our Team Will Respond to Your Request for a Discovery Call Within 48 Hours to Schedule a Consult Specifically for Your Business.
Our Support
Main Support: info@w3affinity.com
Sales: sales@w3affinity.com
"*" indicates required fields